Web accessible resources
Google Chrome Extensions — Часть 1. Архитектура
Что такое Chrome Extension? Это маленькая программа, которая модифицирует и дополняет функциональность браузера Google Chrome. Для создания полноценного расширения вам понадобиться знание HTML, CSS, JavaScript. После написания, файлы пакуются в специальный файл с расширением .crx, который собой являет zip архив. В таком виде пользователь сможет установить расширение. За счет того что этот пакет содержит все необходимые файлы, chrome расширение не зависит от ресурсов из интернета и способен корректно работать даже в оффлайн режиме.
Любое chrome расширение может иметь такую структуру:
может, так как не все эти части есть обязательные, все зависит от конкретных потребностей и особенностей реализации.
Manifest.json
Манифест — главный файл в chrome расширении, поскольку здесь информация о доступах которые нужны, о подключаемых файлах, настройки безопасности и многое другое. Например:
Manifest_version — Версия манифест файла
Name — название расширения
Description — описание расширения
Version — версия расширения
Permissions — массив с названиями доступов, которые необходимы для корректной работы расширения, например без пермишина tabs вы не сможете работать с вкладками браузера
Content_scripts — массив файлов, которые будут подключены как контент скрипты
Background — описание файла или файлов, которые будут выполнять роль background скрипта и страницы
Web_accessible_resources — набор файлов, которые имеют открытый доступ извне
Browser_action — настройка соответствующей кнопки, в тулбаре
Icons — списки иконок по стандартным размерам 16 48 и 128.
Background page
Если взять определение с официальной документации — невидимая страница, которая содержит основную логику расширения. Главной особенностью background страницы есть то, что она запускается и выполняет некую работу в фоновом режиме, как только запускается браузер и держится в оперативной памяти как фоновый процесс на протяжении сессии. Используя комбинацию Shift + Esc Вы можете просмотреть список задач, которые выполняются внутри браузера Google Chrome. Когда установлено много расширений, список задач этом списке также большой. Они занимают часть памяти и возможно других ресурсов, но не выполняют никаких функций, так как непосредственно само расширение не запущено, а в списке вы видите background страницу конкретного расширения.
Чтобы оптимизировать использование ресурсов, в 2012 году была разработана концепция ивент страниц (Event Pages). Она выполняет те же функции что и бэкграунд страница, но призвана решить проблему производительности и ресурсов, которые используются иррационально. Главное отличие этого подхода — вместо непрерывной работы в фоновом режиме, ивент страница запускается только тогда, когда нужно — например чтобы обработать конкретное событие. После чего выгружается, освобождая память до того момента пока конкретное событие не сработает в следующий раз. В плане кода, разницы никакой между этими двумя подходами нет, а единственное что нужно, указать в manifest.json файле это корректное значение проперти persistent. По умолчанию это значение будет стоять в true для стандартных background страниц и false для ивент страниц.
Это обязательные элементы Chrome Extension-а, теперь давайте перейдем к опциональным.
Content Scripts
Контент скрипты — это javascript файлы или код, которые выполняються не в отдельном фоновом процессе (как бекграунд скрипты) а в контексте Веб страницы. Контент скрипты используют в ограниченном виде Chrome API. Но при этом они изолированные и не могут использовать, как функции и переменные которые объявлены, например на бекграунд странице так и переменные, функции и тд. со скриптов находящихся на веб странице.
Полноценный доступ есть только через к DOM дереву страницы. С контент скрипта вы можете инициировать ивенты, изменять DOM. Даже можете добавлять script тег в страницу и подключать нужные файлы.
Content Security Policy
Для Chrome расширений, действует так называемое Content Security Policy — это набор строгих правил, которые необходимы для того чтобы сделать расширения безопасней и контролировать контент который может быть загружен и выполнен в расширении.
По умолчанию, если использовать манифест 2 версии то в расширении будут такие ограничения:
Запрещено использовать eval и схожие функции
Inline джаваскрипт выполняться не будет
Возможность загружать только локальные скрипты и ресурсы
Эти правила можно отменить или облегчить при необходимости. Например, можно добавить настройки хоста с которого вы хотите извлекать определенные ресурсы или скрипты, но все еще запрещено использовать протокол HTTP только HTTPS.
Также можно разрешить использование eval функции.
Разрешить нельзя использование только инлайн скриптов.
Chrome Javascript API's
Разрабатывая хром расширения, получить доступ к методам и возможностям браузера можно с помощью специального Chrome Javascript API's. Большинство методов асинхронные, о чем нужно помнить разрабатывая расширение.
Introduction to Web Accessibility
You are here: Home > Articles > Introduction to Web Accessibility
Article Contents
Introduction
Most people today can hardly conceive of life without the internet. Some have argued that no other single invention has been more revolutionary since Gutenberg's printing press in the 1400s. Now, at the click of a mouse, the world can be «at your fingertips»—that is, if you can use a mouse. and see the screen. and hear the audio—in other words, if you don't have a disability of any kind.
This introduction should help you understand how people with disabilities use the web, the frustrations they feel when they cannot access the web, and what you can do to make your sites more accessible.
The Web Offers Unprecedented Opportunities
The internet is one of the best things that has ever happened to people with disabilities. You may not have thought about it that way, but all you have to do is think back to the days before the internet to see why this is so. For example, before the internet, how did blind people read newspapers? They mostly didn't. Audiotapes or Braille printouts were expensive — a Braille version of the Sunday New York Times would be too bulky to be practical. At best, they could ask a family member or friend to read the newspaper to them. This method works, but it makes blind people dependent upon others.
Most newspapers now publish their content online in a format that has the potential to be read by screen readers used by the blind. These software programs read electronic text out loud so that blind people can use computers and access any text content through the computer. Suddenly, blind people don't have to rely on other people to read the newspaper to them. They don't have to wait for expensive audio tapes or expensive, bulky Braille printouts. They simply open a web browser and listen as their screen reader reads the newspaper to them, and they do it independently, when they want to, and as soon as the content is published.
Similarly, people with motor disabilities who cannot pick up a newspaper or turn its pages can access online newspapers through their computer, using certain assistive technologies that adapt the computer interface to their own disabilities. Sometimes the adaptations are simple, such as having the person place a stick in the mouth and use it to type keyboard commands. In other cases, the adaptations are more sophisticated, as in the use of special keyboards or eye-tracking software that allows people to use a computer with nothing more than eye movements.
People who are deaf may be able to read newspapers on their own, but they can also read online transcripts or captions of online multimedia content. Many people with cognitive disabilities can also benefit greatly from the structure and flexibility of web content.
Falling Short of the Web's Potential
Despite the web's great potential for people with disabilities, this potential is still largely unrealized. For example, some sites can only be navigated using a mouse, and only a very small percentage of video or multimedia content has been captioned for the Deaf. What if the internet content is only accessible by using a mouse? What do people do if they can't use a mouse? And what if web developers use graphics instead of text? If screen readers can only read text, how would they read the graphics to people who are blind?
As soon as you start asking these types of questions, you begin to see that there are a few potential glitches in the accessibility of the internet to people with disabilities. The internet has the potential to revolutionize disability access to information, but if we're not careful, we can place obstacles along the way that destroy that potential and which leave people with disabilities just as discouraged and dependent upon others as before.
People with Disabilities on the Web
Though estimates vary, most studies find that about one fifth (20%) of the population has some kind of disability. Not all of these people have disabilities that make it difficult for them to access the internet, but it is still a significant portion of the population. Businesses would be unwise to purposely exclude 20, 10, or even 5 percent of their potential customers from their web sites. For schools, universities, and government entities it would not only be unwise, but in many cases, it would also violate the law.
The major categories of disability types are:
Visual Blindness, low vision, color-blindness Hearing Deafness and hard-of-hearing Motor Inability to use a mouse, slow response time, limited fine motor control Cognitive Learning disabilities, distractibility, inability to remember or focus on large amounts of information
Each of the major categories of disabilities requires certain types of adaptations in the design of web content. Most of the time, these adaptations benefit nearly everyone, not just people with disabilities. Almost everyone benefits from helpful illustrations, properly-organized content, and clear navigation. Similarly, while captions are a necessity for deaf users, they can be helpful to others, including anyone who views a video without audio.
Gain an appreciation of web accessibility by understanding the user perspective. This 11.5 minute video provides an overview of the difficulties users with disabilities face on the web and some of the motivations for web accessibility.
The students in the following video share some of their experiences with the web and accessibility.
Implementing Web Accessibility
Before anyone can make their web site accessible, they must understand accessibility, be committed to ensuring accessibility, learn how to implement accessibility, and understand their legal obligations.
Commitment and accountability
Awareness. The foundation of any kind of commitment to web accessibility is awareness of the issues. Most web developers are not opposed to the concept of making the internet accessible to people with disabilities. Most accessibility errors on web sites are the result of lack of awareness, rather than malice or apathy.
Leadership. Understanding the issues is an important first step, but it does not solve the problem, especially in large organizations. If the leadership of an organization does not express commitment to web accessibility, chances are low that the organization's web content will be accessible. Oftentimes, a handful of developers make their own content accessible while the majority don't bother to, since it is not expected of them.
Policies and Procedures. Even when leaders express their commitment to an idea, if the idea is not backed up by policy, the idea tends to get lost among the day-to-day routines. The best approach for a large organization is to create an internal policy that outlines specific standards, procedures, and methods for monitoring compliance.
Training and technical support
Sometimes web developers fear that it is more expensive and time-consuming to create accessible web sites than it is to create inaccessible ones. This fear is largely untrue. The benefits of providing access to a larger population almost always outweigh the time required by a knowledgeable developer to implement that accessibility.
A developer can learn the basics of web accessibility in just a few days, but, as with any technical skill, it often takes months to internalize the mind set as well as the techniques. Online resources, such as the WebAIM articles, resources, email discussion list, monthly newsletter, and blog provide relevant resources for administrators, developers, and designers. There are many professionals that can help your organization ensure high accessibility. WebAIM offers onsite training, consulting & technical assistance, accessible site design, and other services.
Laws and standards
If you live in the United States, applicable laws include The Americans with Disabilities Act (ADA) and the Rehabilitation Act of 1973 (Sections 504 and Section 508). Many international laws also address accessibility.
The Web Content Accessibility Guidelines (WCAG) provide an international set of guidelines. They are developed by the Worldwide Web Consortium (W3C), the governing body of the web. These guidelines are the basis of most web accessibility law in the world. Version 2.0 of these guidelines, published in December 2008, are based on four principles:
Perceivable: Available to the senses (vision and hearing primarily) either through the browser or through assistive technologies (e.g. screen readers, screen enlargers, etc.)
Operable: Users can interact with all controls and interactive elements using either the mouse, keyboard, or an assistive device.
Understandable: Content is clear and limits confusion and ambiguity.
Robust: A wide range of technologies (including old and new user agents and assistive technologies) can access the content.
These first letters of these four principles spell the word POUR. This may help you remember them.
Principles of Accessible Design
Below you will find a list of some key principles of accessible design. Most accessibility principles can be implemented very easily and will not impact the overall «look and feel» of your web site.
Provide appropriate alternative text Alternative text provides a textual alternative to non-text content in web pages. It is especially helpful for people who are blind and rely on a screen reader to have the content of the website read to them. Provide appropriate document structure Headings, lists, and other structural elements provide meaning and structure to web pages. They can also facilitate keyboard navigation within the page. Provide headers for data tables Tables are used online for layout and to organize data. Tables that are used to organize tabular data should have appropriate table headers (the
This list does not present all accessibility issues, but by addressing these basic principles, you will ensure greater accessibility of your web content to everyone. You can learn more about accessibility by browsing our articles and resources.
Conclusion
The web offers many opportunities to people with disabilities that are unavailable through any other medium. It offers independence and freedom. However, if a web site is not created with web accessibility in mind, it may exclude a segment of the population that stands to gain the most from the internet. Most people do not intend to exclude people with disabilities. As organizations and designers become aware of and implement accessibility, they will ensure that their content can be accessed by a broader population.

Годовая
подписка
на
Хакер
Xakep #251. Укрепляем VeraCrypt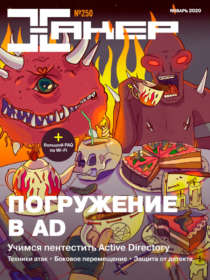 Xakep #250. Погружение в AD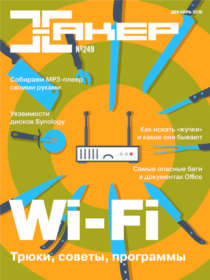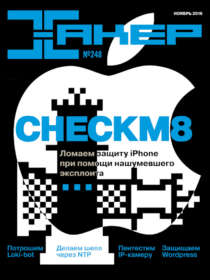 Xakep #248. Checkm8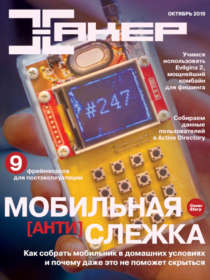 Xakep #247. Мобильная антислежка
Adobe навязала пользователям расширение Acrobat для Chrome, эксперт нашел в нем XSS баг
Xakep #251. Укрепляем VeraCrypt
В январе 2017 года компания Adobe преподнесла пользователям весьма неприятный сюрприз: вместе с обновлением Acrobat Reader на машины пользователей, без всякого предупреждения установилось расширение Adobe Acrobat для браузера Chrome. Весь процесс его установки был скрыт, зато при следующем запуске браузера пользователя поджидало неожиданное известие о добавлении нового расширения.
Установленное принудительно расширение ничем не отличается от версии из официального каталога Chrome Web Store. Оно запрашивает разрешения на чтение и изменение данных на посещаемых сайтах, доступ к управлению загрузками, а также хочет иметь возможность общаться с нативными приложениями. Кроме того, по умолчанию у расширения Adobe Acrobat включен анонимный сбор данных об использовании. Собранная информация затем будет применяться для «улучшения продукции Adobe». Последнее обстоятельно возмутило многих пользователей, но, к счастью, возможность отключить расширение или удалить его вовсе никуда не делась.
I took a quick look at the extension. There was an easy privileged javascript code execution bug. Sigh. https://t.co/9Ka4y5r43M https://t.co/Wi6OVmYM5q
Эксперт Google Project Zero Тевис Орманди (Tavis Ormandy) сообщил о том, что Acrobat для Chrome не только раздражает, но и представляет угрозу. Исследователь пишет, что даже беглый осмотр плагина выявил XSS-баг в его коде. В отчете об ошибке Орманди объясняет:
«Полагаю, CSP [Content Security Policy] не позволит незамедлительно перейти к выполнению скрипта, но если использовать iframe для не web_accessible_resources, можно с легкостью организовать выполнение кода, сменить настройки privacy через options.html и так далее».
Исследователь уведомил разработчиков Adobe о проблеме 12 января 2017 года, и через пару дней баг уже был исправлен. Стоит отметить, что согласно официальной статистике, расширение установлено более 30 млн раз.
Accessible Web Authoring Resources And Education
Универсальный русско-английский словарь . Академик.ру . 2011 .
Смотреть что такое «Accessible Web Authoring Resources And Education» в других словарях:
Web Accessibility Initiative — The World Wide Web Consortium (W3C) s Web Accessibility Initiative (WAI) is an effort to improve the accessibility of the World Wide Web (WWW or Web) for people with disabilities. People with disabilities may encounter difficulties when using… … Wikipedia
Web accessibility — For Wikipedia s accessibility guideline, see Wikipedia:Accessibility. Disability … Wikipedia
AWARE — Arming Women Against Rape And Endangerment (Community » Non Profit Organizations) **** Anti War Anti Racism Effort (Community » Non Profit Organizations) ** Accessible Web Authoring Resources And Education (Community » Non Profit Organizations) * … Abbreviations dictionary
History of virtual learning environments — A virtual learning environment (VLE) is a system that creates an environment designed to facilitate teachers in the management of educational courses for their students, especially a system using computer hardware and software, which involves… … Wikipedia
History of virtual learning environments 1990s — In the history of virtual learning environments, the 1990s was a time of growth, primarily due to advent of the affordable computer and of the Internet.1990s1990* Formal Systems Inc. of Princeton, NJ, USA introduces a DOS based Assessment… … Wikipedia
Wikipedia — For Wikipedia s non encyclopedic visitor introduction, see Wikipedia:About. Wikipedia … Wikipedia
HyperCard — Infobox Software name = HyperCard logo = caption = HyperCard Screenshot developer = Apple Inc. (formerly Apple Computer, Inc.) latest release version = 2.4.1 latest release date = 1998 operating system = System Software 6, System 7, Mac OS 8, Mac … Wikipedia
MediaWiki — namespace redirects here. For help regarding the MediaWiki namespace on Wikipedia, see Help:MediaWiki namespace. For general information about Wikipedia namespaces, see Wikipedia:Namespace. Talk page and MediaWiki talk page redirect here. For… … Wikipedia
Link rot — For broken links in Wikipedia, see Wikipedia:Linkrot, Wikipedia:Using the Wayback Machine, and Special:BrokenRedirects. Link rot (or linkrot), also known as link death or link breaking is an informal term for the process by which, either on… … Wikipedia
Nobel Prizes — ▪ 2009 Introduction Prize for Peace The 2008 Nobel Prize for Peace was awarded to Martti Ahtisaari, former president (1994–2000) of Finland, for his work over more than 30 years in settling international disputes, many involving ethnic,… … Universalium
Canadian Federation of Students — Fédération canadienne des étudiantes et étudiants Founded 1981 Members 500,000 (est.) Country Canada … Wikipedia